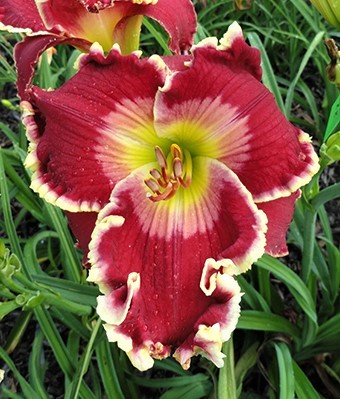 I am Humbled and Honored to receive the 2021 American (Hemerocallis) Daylily Society's Steve Moldovan Mentoring Award.

This award was established in 2007 to honor the memory of hybridizer Steve Moldovan for his life-long mentoring efforts.
My husband Merwyn Ripley and I have lived on 10 acres in rural Iowa since 1965. I retired from Iowa State University in 2003, where I was the Office Manager for the Athletic Compliance Department, to spend more time with my passions: family, friends, our horses, gardening, hybridizing daylilies, watercolor painting, and photography.
Being a member of the Iowa Regional Lily Society, Iowa Arboretum, Co-Hort Member at Iowa State University Reiman Gardens, Master Gardener since 1994, Garden Judge and instructor for the American Hemerocallis Society, and hybridizing daylilies in our garden, I keep busy all year long. I served on the AHS Board as Director of Region One and Chair of the Educational Outreach program from 2010 through 2015. We need to extend a BIG Thank You to all those that take office or help in any way to our clubs or associations. They don't run by themselves.
After the storm derecho hit our garden on August 14, 2020, we no longer open our garden for tours. I will continue selling my daylilies from my website all year and sell daylilies from the garden by appointment only in July. Please contact me by email (nripley22@gmail.com) or phone (515-382-6269) to make an appointment. To keep everyone safe from COVID-19, we wear masks and do social distancing until all have received the vaccine shot(s).

To date, I have 60 daylily introductions. We ship May, June, and September, weather permitting. For our order form, please click here.

It's a Beautiful Thing when a Career and a Passion come together.