SCARLET PIMPERNEL (N. Ripley 2007) WINNER OF THE STOUT SILVER METAL 2019

Scarlet Pimpernel in 2013 won Honorable Mention in the first tier of the Stout Medal pyramid. In 2013, Scarlet Pimpernel tied for first place in Region One Pop Poll and in 2015 was 1st runner up for the Lambert Webster Hybridizer award for Unusual Form Cultivar. In 2016, Scarlet Pimpernel won Award of Merit in the second tier of the Stout Medal pyramid.

I was elated at the National Convention to have Scarlet Pimpernel win the Ned Roberts Spider/Unusual Form. What an honor to get this award with Region One being the host for AHS National Convention of 2013. This award, established in 2007, is to honor the memory of hybridizer Neb Roberts. Ned worked tirelessly to promote these daylily forms, acting as an educator and mentor for both collectors and hybridizers. The award is to be given annually at the AHS National Convention for the most outstanding Spider or Unusual Form cultivar blooming in a clump in a convention tour garden, as voted by attending AHS members. Thank you to those that voted for our "Scarlet Pimpernel".


Nan's 'Supreme Scream' is on the front cover of the ia Magazine Business Publication for 2018 with a story about "The Artful Gardener" on pp. 102-109.


Nan was featured in the May 2017 Martha Stewart Living Magazine.


Awards Presented at the 2017 Region One Convention in Minnesota:

| | |
| --- | --- |
| | |
| Nan Ripley won the Region One Award for Service presented by Regional President Zora Ronan | Nan Ripley won the Award of Merit for 'Scarlet Pimpernel' & Karol Emmerich won the Award of Merit for 'Desires of Nations' |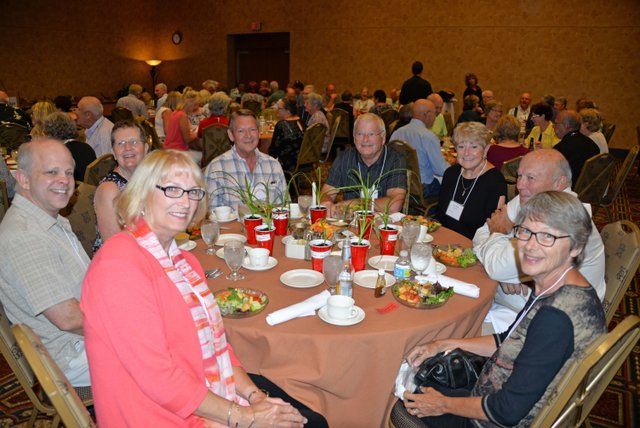 Table of friends at the 2017 Regional Convention in Minnesota
Our hybridizing program along with Don Lovell's hybridizing program were featured in the AHS Journal Winter 2009 "Fast Friends, The Hybridizing Programs of Don Lovell and Nan Ripley".


| | |
| --- | --- |
| Nan Ripley won American Hemerocallis Society 2010 Regional Newsletter Award for 'Best Article About Hybridizing' titled "Early Start", Region 1 Newsletter, The Daylily Pioneer, Fall/Winter 2010 | Central Iowa Daylily Society's Paul York Memorial Hybridizer Award to Nan Ripley, 2011 |
Walkabout Gardens